New York
As most of you know, I (we) have been to New York for a couple of weeks to visit my sister, who graduated from Rutgers College while we were there. Actually, that was the reason we went this time, as she held a big party in the backyard.
Here is a little rundown of things we did, things we saw and places we visited while in the States:
The Late Show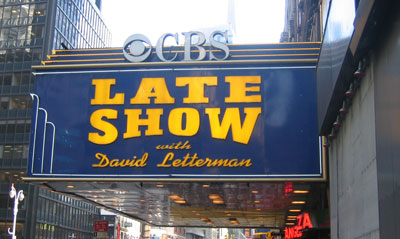 We went to see a taping of the Late Show with David Letterman. I was prepared and brought an extra shirt, but the theatre wasn't cold at all – for years Mr. Letterman has been telling jokes about the low temperatures inside the studio, but I guess they fixed the heating system 😉
The guests on the show were David Arquette whom I guess is only famous because he is married to Courtney Cox. Well, he is an actor, but can anyone name a good film he has starred in? I can't. The other guest was British chef Gordon Ramsay who was there to promote his new show, which I can't remember the name of, and it sounded like a typical reality-show: boring and mind-numbing.
New York City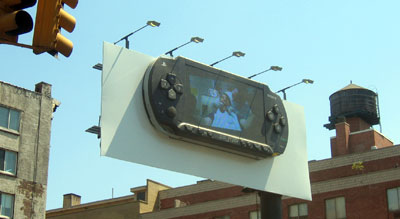 We (Louise and I) spent a couple of days in the city. We stayed at a nice hotel on E24th Street called "The Marcel", although we hardly spent any time there. It was merely used as a base, while we went and spent our time shopping, going out for lunch/dinner and just walking the streets of Manhattan. The picture shows a giant PSP, which is the biggest thing in the US right now.
Family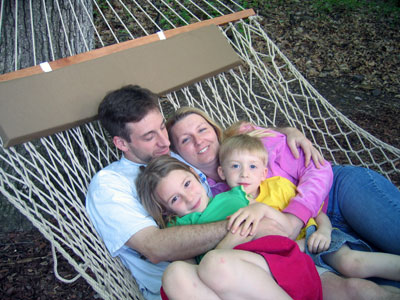 Obviously we spent a lot of time with the family, as we rarely get to see them. For those not in the know, the picture shows Joel, Katrine, Kirsten and Lucas in a hammock.
Next up is a silly picture of Kirsten…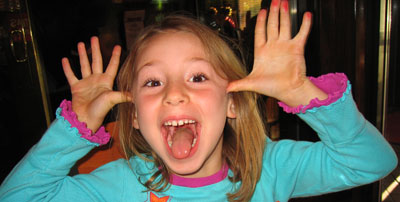 And here is one of Lucas looking a bit spooked…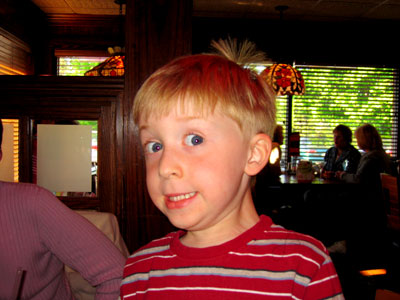 The Yedids
As I mentioned in one of my previous posts, I used to be an au-pair/nanny when I lived in the States, so Louise and I went out to visit my "family" in Long Island. It was quite scary, because the kids are growing pretty fast and the oldest (Alan) is looking at colleges! Anyways, it was great to see them all again, and here is a pic of some of them (Dave, Jake, Elyse and Alan):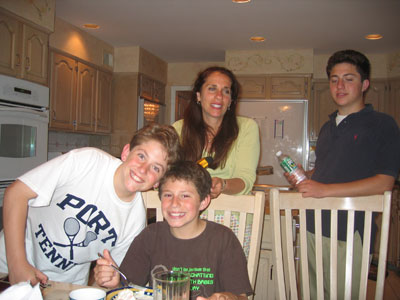 Party time!
Katrine threw a big party in the backyard, and on my request there was a keg of beer 🙂 Nobody got drunk, but it was a good party, good food and lots of nice people.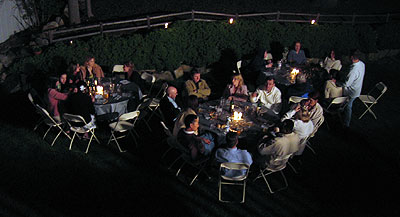 Other stuff
While we were there Manchester United lost the FA Cup final on penalties to Arsenal, even though they dominated them in regular time. I have never seen an Arsenal team so anonymous, so it's quite a shame that they got the trophy, but it just goes to show what kind of season, United have had. Malcolm Glazer has now taken full control of Man Utd, so I guess the club could be in dire straits within a few years… Join Shareholders United! NOW!
FCK also lost to Brøndby, but let's not talk about that anymore…